You Are Here:
Home >> >> >> >>
Han Jianmin
General Information
Title:Associate Professor
Discipline area:Dental Materials, Biological Evaluation of Dental Devices
Email:hanjianmin@bjmu.edu.cn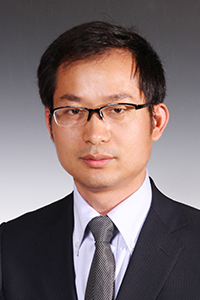 Research Expertise
Area of Research Expertise:
1. The biological safety and effectivity evaluation of dental materials
2. Metal-free dental implant development and surface modification
3. The interface of tissue and dental materials
Research Theme:
1. Biological evaluation of dental materials
2. The evaluation methods and standardization of dental materials
3. The development of zirconia dental implant
Academic Publications
1. Wang Y, Cui W, Zhao X, Wen S, Sun Y, Han J*, Zhang H*. Bone remodeling-inspired dual delivery electrospun nanofibers for promoting bone regeneration. Nanoscale. 2018 2018; 11 (1): 60-71.
2. Ying Li#, Jianmin Han#, Chengwen Tan, Chuanbin Guo, Junyi Yue, Fuchi Wang, Mingyu Zhao, Xifan Mei, Chunmei Dai.Tantalum coating prepared by APCVD and in-vivo biological evaluation. Surface Engineering 2018; 33 (1): 1-8
3. Ding Y, Liu P, Zhang S, Tao L, Han J*. Screening pathogenic genes in oral squamous cell carcinoma based on the mRNA expression microarray data. Int J Mol Med. 2018; 41 (6): 3597-3603.
4. Jianmin Han, Jing Zhao, Zhijian Shen. Zirconia ceramics in metal free implant dentistry. Advances in Applied ceramics, 2016; 116 (3): 138-150.
5. Youdong Zhang*, Jianmin Han,*, Gang Zheng, Hong Lin, Wei Bai, Jing Zhao and Zhijian Shen Fatigue behaviours of the zirconia dental restorations prepared by two manufacturing methods. Advances in Applied ceramics, 2017; 116 (7): 368-375
6. Jianmin Han, Guang Hong, Hong Lin, Yoshinaka Shimizu, Yuhan Wu, Gang Zheng, Hongyu Zhang, Keiichi Sasaki. Biomechanical and histological evaluation of the osseointegration capacity of two types of zirconia implant. International Journal of Nanomedicine 2016: 11,6507-6516. (IF=4.32)
7. Zhang H, Han J*, Sun Y, Huang Y, Zhou M. MC3T3-E1 cell response to stainless steel 316L with different surface treatments. Mater Sci Eng C Mater Biol Appl. 2015;56:22-9. (IF 3.088)
8. Jianmin HAN, Guang HONG*, Kentaro HAYASHIDA, Takeshi MAEDA, Hiroshi MURATA and Keiichi SASAKI. Influence of composition on the adhesive strength and initial viscosity of denture adhesives. Dental Materials Journal 2014; 33 (1): 98-103. (IF: 0.943)
9. Jianmin HAN, Guang HONG*, Hiroyuki MATSUI, Yoshinaka SHIMIZU, Gang ZHENG, Hong LIN, Keiichi SASAKI. The surface characterization and bioactivity of NANOZR in vitro. Dental Materials Journal 2014; 33 (2): 210-219. (IF: 0.943)
10. Jianmin Han, Guang Hong*, Maimaitishawuti Dilinuer, Hong Lin, Gang Zheng, Xin-zhi Wang, Keiichi Sasaki. The adhesive strength and initial viscosity of denture adhesives. Acta Odontologica Scandinavica 2014; 72 (8): 839-845. (IF: 1.309)
11. Jianmin HAN, Hongyu ZHANG, Hyo-Sun CHOE, Hong LIN*, Gang ZHENG, Guang HONG. Abrasive wear and surface roughness of contemporary dental composite resin. Dental Materials Journal. 2014; 33 (6): 725-732. (IF: 0.943)
Honours and Awards
2019,Pfeil Award
last text: Zhang Xuehui
next text: Wang Yuguang