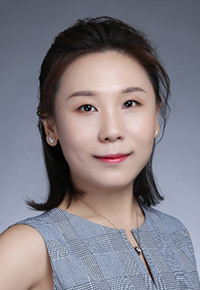 Zhao Yijiao
General Information
Title:
1. Senior engineer
2. Master supervisor
3. The member of the digital stomatology committee of Chinese stomatological association
4. The member and academic secretary of the digital stomatology committee of Beijing stomatological association
5. The member of medical additive manufacturing committee of China medical equipment association
Discipline area:Digital technology of stomatology
Email:kqcadcs@bjmu.edu.cn
Research Profiles:
1. 3D data acquisition, processing and modeling of stomatology
2. 3D measurement and analysis of stomatology data
3. Research and development of software algorithms
Research Expertise
Area of Research Expertise:
Research and development of the digital technology of stomatology
Research Theme:
She has conducted in-depth research on the 3d digital modeling of stomatology, the 3d measurement and analysis of stomatology data, and the research and development of related software algorithms
Academic Publications
1. Wang Chen-xin#, LIU Yi#, WANG Si-wei, WANG Yong, ZHAO yi-jiao*. Evaluation of in vivo digital root reconstruction based on anatomical characteristics of the periodontal ligament using cone beam computed tomography. Scientific Reports, (2018)8:269
2. Yuxue Xiong, Yijiao Zhao, Huifang Yang, Yuchun sun, Yong Wang*. Comparison between Interactive Closest Point and Procrustes Analysis for determining the median sagittal plane of three-dimensional facial data. Journal of Craniofacial Surgery, 2016, 27(2): 441-444
3. Zhao Yijiao,Xiong Yuxue,Sun Yuchun,Yang Huifang,LYU Peijun,Wang Yong*,Quantitative evaluation of three-dimensional facial scanners measurement accuracy for facial deformity,International Conference on Optical and Photonic Engineering (icOPEN 2015),2015.7.17,Proc. SPIE 9524
Honours and Awards
She has won the first prize of education and teaching achievement of Peking university health science center and Beijing municipal (2017).
She has won the medical science graduate education achievement award of the working committee of the medical science department of the Chinese academic degree and graduate education association (2017).
last text: Wang Yong